A free, 3 week, part-time course by Edventure: Frome for 19-35-year-olds.
You'll spend three weeks in a team designing and making products by hand from reclaimed wood that would otherwise end up in landfill. You'll work with an expert local woodworker to learn techniques and get stuck into the making and experimenting process before coming up with products for your team to sell at the Frome Independent Market. 
You get to choose what to do with the profits.
You'll develop business skills and explore new ways to progress towards a livelihood that matters to you.


Try out and test creative ideas


Meet new people and work as a team


Make things with your hands


Try your hand at a wide range skills needed to set up a small business


Get help with next steps and support from a mentor


Access to a work and study space with free internet and coffee


Who we are looking for:
Anyone between 19-35 can apply. You don't need any formal qualifications or experience. We are looking for people who are motivated and are up for a challenge including those who are out of work, looking for a new direction and who want to gain skills and experience.
Fees:
This course is free and is made possible thanks to funding from Somerset Skills & Learning
Dates and times:
MAKE runs for 3 weeks on Monday-Thursday from 9.30am-2.30pm. The course times are designed to fit between school hours for parents. You will also need to be available on Sunday 5th July to take your products to the Frome Independent Market.
The Challenge:
The theme of this MAKE Course is "waste" wood. 
Apply:
Follow the link to apply. When you submit your application, you'll be redirected to a screen with a link to book an informal interview with us. Places are given on a rolling basis – apply early for the best chance to get a place.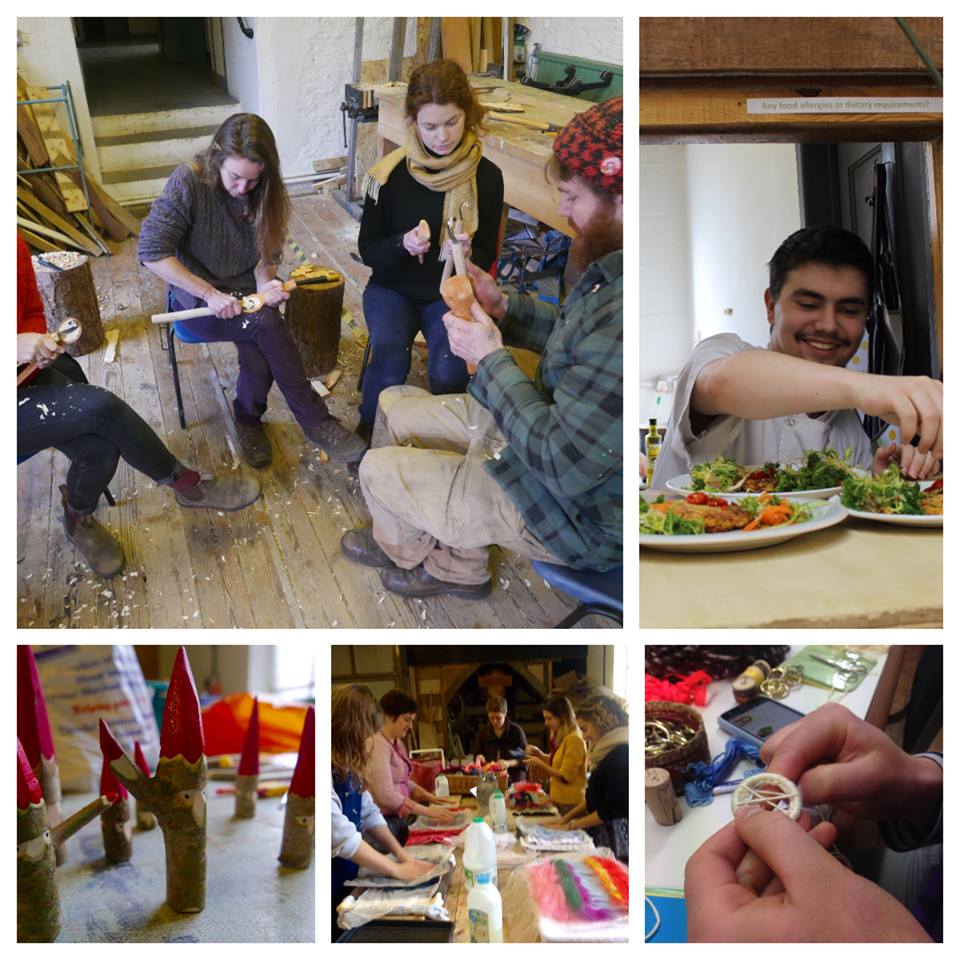 What previous MAKE students say:
"The day of the market was the best day ever. I learned that it's possible to have a dream, and with motivation and dedication, see that dream come true and actually hold it in your hands." Anouska Manion
"I liked the structure and facilitation of the course and the group challenge we were set. This course has taught me a lot about ways to successfully meet future work projects." Alex Hermon
"We are stepping out of our comfort zones; exploring new territory, taking responsibility and developing our strengths as individuals and a group." Chloe Wykes
Facilitators:
Harry Samuel
Harry was on the first ever Edventure course as a student! Now he's a full-time traditional woodworker, managing woodland to supply the raw materials for his work crafting small domestic items, greenwood furniture and timber frames. He also has a passion for working with people of all ages, gender and ability. He believes that working with your hands is an empowering process that can help people to connect to their environment and to each other.
Harry says, "This is a totally unique course and opportunity. From cutting down a tree to learning a new craft and selling your wares at The Frome Independent Market three weeks later. It is very powerful as a teacher to let go of control and let the process be predominantly student-led. Edventure: Frome do some amazing work with a real range of people and I feel proud to be a part of it"
Amelia Parisian 
Amelia is Edventure's Programmes Lead. She has 12 years facilitation experience with diverse groups. Since joining Edventure 3 years ago, she designed and set up the MAKE course and has led 4 Edventure Start -Up teams through the process of setting up or developing community initiatives. Her passion lies in community-based education. She loves designing and running experiences which positively impact individuals, communities and the wider world.
Amelia says, "I love running the MAKE course because there's nothing like having an idea in your head and then turning that idea into a real-life beautiful object in your hand. When we achieve things that we never thought possible, our minds start to believe that anything is possible. My experience is that some of the best conversations happen when your hanging out and making stuff!"